Eye Of The Day
welcome to my first post!
So in order to make my blog better I will be posting my eyes of the day! I want to keep you guys posted and maybe this will help me make better video looks as well.
So I did this look for New Years Eve and listed below are the products I used.
Products used in no order:
MAC studio fix fluid NC30
MAC loose powder NC30
MAC painterly paintpot OF COURSE lol
NYX barely there e/s
MAC romp e/s
MAC rule e/s
MAC beauty marked e/s and lots of it! Lol
MAC dab ling e/s
MAC ricepaper e/s
Cherry Culture #138 lashes (MY FAVE)
MAC angel lipstick
MAC smilin' dazzle glass
CLICK TO ENLARGE! :)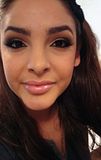 :)
I hope you guys enjoy this look. It's very similar to my Kim K. video I did awhile ago but this one I just added on more black not brown.
Now I'm trying to figure out what to do to make up for the lack of give away :/ blahhhh
Sorry guys
Ok well I hope all is well with you. Its raining here in LA and it's so gloomy! Gloomy weather makes for crappy lighting in a video lol. Greattttt. Ok ok, now I'm going.
Love you,
Vanes
<3